See Whats happening at the Rose Collective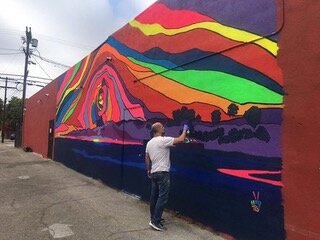 OUR SHOP RECENTLY GOT A FRESH PASS ON ITS WALL WITH A TALENTED ARTIST WHO YOU SHOULD KNOW. STOP BY TO CHECK IT OOUT AND GET THE SCOOP.
Q&A WITH ROSE COLLECTIVE'S IN-HOUSE CLONE PRODUCER
Marley Natural met up with Rose Collective's In-House Clone Producer, Ian, to learn the herb. He shared why clones matter, what Marley strains he smokes before gardening and the importance of talking to your plants.
Your title at Rose Collective is "In-House Clone Producer." Will you explain what that means? What are your roles?
I produce, grow and maintain clones as a product through our store. My role involves taking care of the mother plants and keeping them healthy. I also handle all the daily maintenance like checking fans, temperatures and water.
MEDICATED MEDITATION WITH ROSE COLLECTIVE & CEREMONY MEDITATION
The link between meditation and cannabis isn't something that's been recently discovered. It's been known for some time that cannabis and meditation have similar effects. Things like reducing anxiety and depression, increasing tolerance, promoting peace of mind, and experiencing a feeling of wellbeing. Combined, these two are perfect companions and can take you to a next-level high.
MEET ROSE COLLECTIVE'S MASTER ROLLER
The joint is one of the more iconic methods of consuming herb. A joint is discreet, disposable, and easy to transport. It's a great way to enjoy the flavor of your flower and reflect if you are a personal piffer, or bond with friends if you like to puff and pass.
One thing we think every cannabis smoker should (try to) learn how to do is roll a joint. There are countless opinions on the different ways of rolling and packing a joint, but whatever you do, make sure your creation burns smoothly and evenly.
To help you hone your own craft, we've asked Rose Collective's Master Roller Peter Constantino to share his joint packing and rolling expertise ahead of our Beach Clean Up with Rose Collective this Sunday in Venice Beach.